We are planning programs for the 2022-23 Season.
Music is both ART and SCIENCE and we support both.
We strongly support being fully vaccinated and
CDC and VDH Guidelines.
If vaccination is not possible, Social Distancing and wearing masks should be followed.
Be Well and Stay safe!



TMMC UPCOMING EVENTS and PROGRAMS
Thursday Morning Music Club welcomes and invites everyone to our free public programs and events. We may take up a free will offering in support of our programs and scholarship awards to young musicians and dancers.


---
---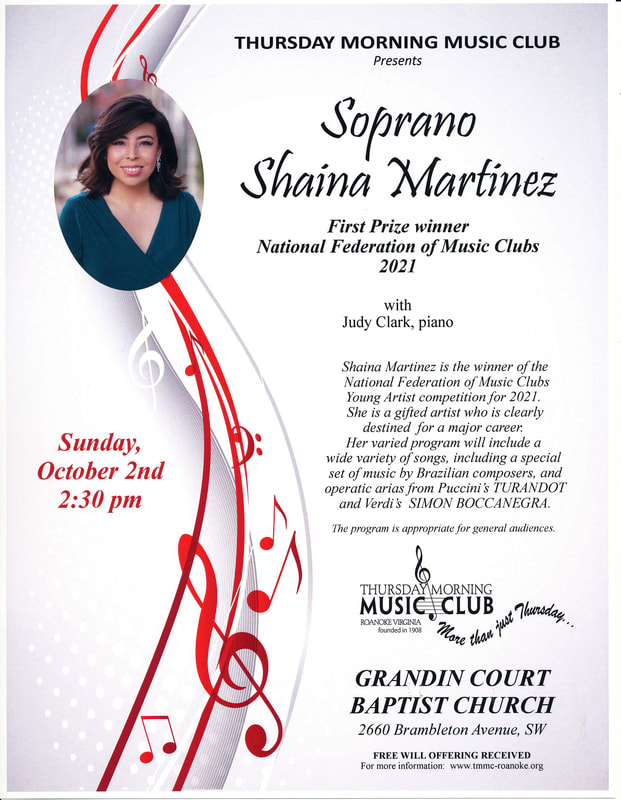 Sunday, October 2, 2022 - 2:30 p.m.
2021 NFMC Young Artist
accompanied by Judith Clark

Grandin Court Baptist Church 2660 Brambleton Ave. Roanoke
---
Friday - November 11, 2022- 10:30 a.m.
Grandin Court Baptist
2660 Brambleton Avenue, Roanoke

Dr. Matthew Caataldi, Pianist and Composer
Radford University
Partnering with Roanoke Valley Music Teachers Association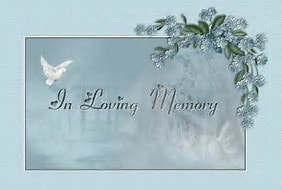 Thursday, December 8, 2022

Annual Christmas Program featuring
our own TMMC Chorus and musicians

Brandon Oaks Retirement Community
3805 Brandon Avenue, SW Roanoke, 24018
10:30 a.m. - Memorial Candle Lighting Ceremony - Program will follow.



---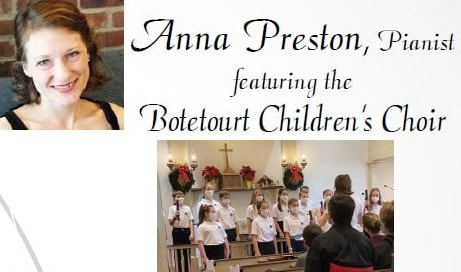 Saturday, February 11, 2023 2:30 p.m.

presents
American Women Composers

Grandin Court Baptist Church 2660 Brambleton Ave. Roanoke


---
---
---
---
Saturday, April 28, 2023 - 2:00 p.m.
Annual Scholarship Recital and Presentation of Scholarship Awards
Grandin Court Baptist Church. Vocalist, Pianist, Instrumentalist and Dancers.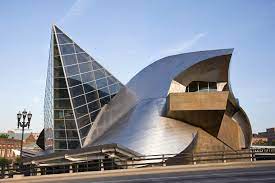 Saturday. May 13, 2023 - NFMC - National Music Week
at the Taubman Museum of Art

Scholarship FUNDRAISERS

---
PAST Events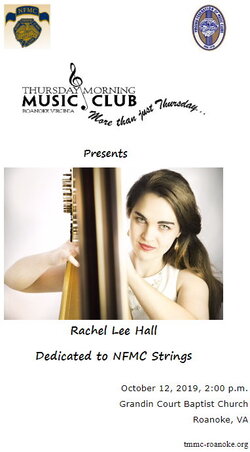 SATURDAY, October 12, 2019
Rachael Hall, harpist presents
Arabesque Impressionistic Music

2:00 p.m. @ Grandin Court Baptist Church
2660 Brambleton Avenue, Roanoke




Celebrating NFMC American Music - Folk, Bluegrass, Southern-Traditional
followed by our SCHOLARSHIP FUNDRAISER BINGO and SILENT AUCTION.Grandin Court Baptist Church,

2660 Brambleton Avenue, Roanoke, 24018