Covid-19 Virus Policies
We are planning programs for the 2020-21 Season.
Social Distancing and wearing masks will be required.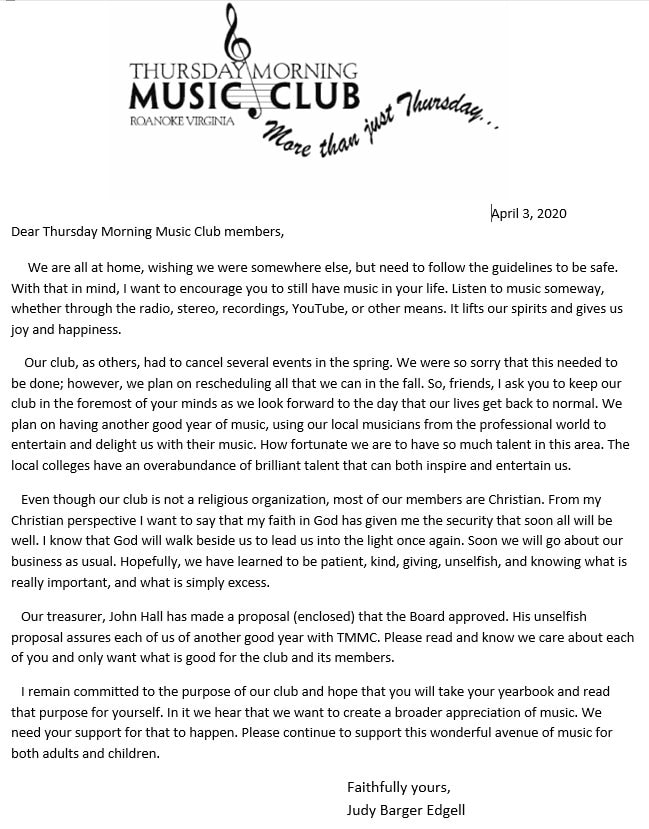 Proposal approved by the Board of Directors:

March thru May is normally the time for you to renew your TMMC dues. Realizing that these are not normal times and that a number of our members are on fixed income we are automatically renewing membership for everyone who paid dues in 2019-20. We ask you to pay your dues for the 2020-21 season if at all possible. If we do not receive your dues by May 30th, we will transfer money to cover your dues from our investment account to our checking account in order to fulfill our contractual/financial obligations. Our investments like yours are drastically lower which means we would be withdrawing the principle, reducing the likelihood it will be recovered when the economy turns around.

If you are able, please send your check made out to TMMC for $45.00 to: TMMC Treasurer, 6109 Wertz Orchard Road, Roanoke, VA 24018.

Please practice social distancing, Sing, Play and Listen to music at home and be safe. Wash your hands frequently!

The board of directors of Thursday Morning Music Club wishes you music and health at this stressful time.

We are planning for a 2020-21 Program Season at this time with social distancing and other
CDC policies in place. We will update this site with information as it becomes available.


---
Purpose:
The corporation is organized and shall be operated exclusively for charitable and educational purposes, and limited to those purposes. The objectives shall be to create a broader appreciation of music, to encourage and develop individual music talents, to foster and promote musical entertainment, and to provide a social and educational center in the valley of Roanoke, Virginia, for music lovers.

History:
Organized February 20, 1908
Federated February 25, 1920

A Few PAST PERFORMERS AND MUSIC GENRES

October 2016 Program
Our Matheson Brothers Classic Strings Duo, October 6th performance was partially sponsored by the Virginia Commission for the Arts and the National Endowment for the Arts.




Roanoke Symphony Performers
Akemi Takayama
Abigail Pack
David Stewart Wiley
Julee Hickcox
Kevin and Brian Matheson
Wally Easter

Opera Roanoke, Chamber Music
Amy Cofield Williamson
Scott Williamson
Judith Clark
Eastern Mennonite University Chamber Singers
VA Tech Chamber Singers

NFMC Young Artist Winners
Kwan Yi, Piano
Rayanne Gonzales, Soprano

Big Band Sounds
The Let's Dance Band
Cave Spring HS Jazz Band
Community Band

NFMC Folk Music
Jack Hinshelwood
The New Roanoke Jug Band
William Penn, composer of "Birth of a Folk Opera"

International Music
Richard Rudolph's Classical Steel Drums

NFMC Parade of American Music
Michael Tucker, Tenor, Shenandoah University & Metropolitan Opera, NYC



---